FREE TRIAL - Then Just £2.99 for peace-of-mind when driving on the left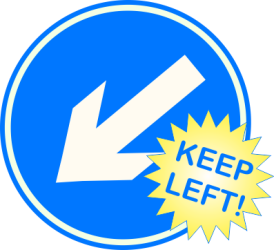 Do you want to:
Feel well-prepared for driving on the left?
Reduce the risk of holiday misery?
Potentially save £££'s on minor damage - or worse?
Enjoy your driving on the left experience?
If your answer is "YES" to all or any of the questions above, read on...
By using DriverActive to prepare for your trip you will gain the knowledge you need for a safe experience when driving on the left.
Although DriverActive is designed for learners it has proved to be invaluable for overseas visitors to the UK and Ireland - for many, even the basic information about driving a stick-shift will save lots of frustration.
The information about junctions, roundabouts, road types, parking, motorways and lots, lots more is essential for safe and enjoyable driving on the left.
The information in DriverActive is set out in an easy-to-follow way that will help you to quickly understand the rules and regulations at a time to suit you - not in the middle off a busy traffic situation!
Sign up now for a free trial and find out how DriverActive can help you to prepare for your trip.
Sign up Below