DRIVERACTIVE... Just £2.99 for 36 Online Lessons.

Visiting the UK or Ireland? Perhaps surprising for many, there are still around 100 places across the globe where people drive on the left – but the chances are that if you are visiting the UK or Ireland for the first time it will be your first experience of driving on the 'wrong side'.
This page is mainly based on UK roads but virtually all rules also relate to Ireland.
Chances are that you will jump into the passenger seat a few times before you realise that the driver sits on the other side!

As soon as you get used to getting into the driver's side you are ready to drive into the 'mirror world' where you give way at intersections when turning right, drive around roundabouts to the left (clockwise) and entering and leaving the freeway (motorway) on the left…
Getting started - Rental or your own car

If you are renting a car make sure that you ask for an automatic. The default in the UK is manual (stick-shift) – if you don't ask for an auto when booking there might not be one available when you arrive at the car-hire desk. It's also worth renting a smaller car than you drive at home, especially if you are visiting rural areas – for example, in parts of northern Scotland there are only single-track roads.

Remember to bring your driving licence and International Licence – you need to show a current valid licence at the desk when hiring a car.
You may also need to show your passport and will need a credit card for a booking deposit (security against damage).

When booking also ask about whether the car has sat-nav, if not, take your own (be sure it has European maps) – for trips of over a couple of weeks it might be cheaper to buy a low cost sat-nav rather than rent one.

If you are touring in your own car you must have a minimum of third-party insurance, we would also advise that you have 'breakdown rescue cover' sufficient to transport your vehicle back home in the event of a major problem. To avoid any potential problems you should carry your vehicle documentation with you.

The first few days

Many of the things we do when driving are habitual – we do them without conscious thought. This is a positive thing, with so much information to process good driving habits make us safer on the road.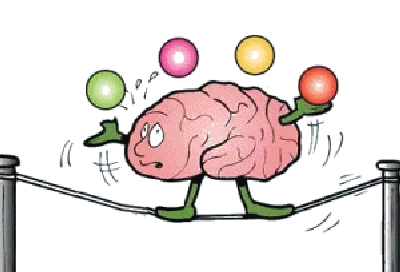 But if you have always driven on the right, you will have to re-train your brain by consciously thinking about your actions, especially at junctions (intersections). This is a bit like the first time you ever drove - although you now have lots of driving skills you will be using them in what will initially be a non-intuitive way.

Nobody likes to think about accidents, but the fact is that most accidents amongst UK visitors happen within the first few days, this is because habit kicks in, especially an busy situations or if the driver is feeling a little tired.

Take it easy for the first few days. On your first drive stick to quiet roads if at all possible.

The advice on this page will help to get you started – for detail about all aspects of UK driving see Learn-Online. Although Learn-Online is a program designed for UK learner drivers, a high proportion of it is directly relevant to visitors with information about junctions, roundabouts, motorways, rural driving and much more besides.
Journey planning

Journey planning is essential. We recommend both a map and sat-nav.

Remember that you are driving in a strange environment – on the left hand side of the road. You need life to be as easy as possible and so knowing where you are going and how to get there is key to a hassle free journey. 

Also allow for stops and breaks on long journeys. Driving in an unfamiliar environment can be stressful and tiring – for the first day we recommend that you take a break of five or ten minutes for every hour you drive… And from then on, every two hours.
Road signs and traffic lights

Directional signs are colour-coded: blue for motorways, green for major routes and white for minor routes. Brown signs indicate places of interest.

In the UK, red triangle signs with a white background give warnings – these are mostly the same as the diamond signs signs used in many parts of the world (and like the Irish warning signs). Examples:

UK warning: Road bends to the right


Irish warning: Road bends to the right

Irish warning: Road works
Blue circular signs are compulsory and give a positive instruction (keep left, ahead only , etc.) Red circles a prohibitions and give a negative instruction – for example no cyclists allowed.




There are some differences between Ireland and the UK here - the Irish system does not have blue circular signs but instead depends on the red circles for both positive and negative instructions. However, you will find a mixture of signs with many UK style signs used in some parts of Ireland.
There is one sign that often catches out visitors to Ireland - the no-entry sign. The almost universal no-entry sign found elsewhere is not widely used in Ireland (although it can sometimes be found).




Traffic lights are universal – red means stop.
IMPORTANT: You cannot make a left-turn at a red light if the road is clear – you must wait for a green light or a green arrow.

Note that lights do not go directly from red to green in the UK – there is a red and amber phase before green – you must wait for green to go.

There are lots of examples of signs and their meanings and traffic light sequences in Learn-Online
Parking

The best advice is to use a designated car park.

Many car parks require a fee either by purchasing a ticket before you park or on exit. Some free car parks are time limited, for example at supermarkets or on Motorways. Some time limited car parks allow you to stay beyond the limit by paying a fee. WARNING: Car camping is often used on offending vehicles in time limited car parks (a substantial fee is required to remove the clamp) - some also use automatic number-plate recognition to log when you enter and leave.

Look out for signs that indicate that it's OK to park on the street. Where there are yellow line markings along the edge of the road there are parking restrictions in force, these range from no parking at any time to limited parking availability – there will always be marker plates nearby explaining the restriction.

For information about parking and many other lane and road markings see Learn-Online
Speed Limits

Speed limits are indicated by red circular signs with black numbers on a white background. The figure shown is the maximum permitted speed – it might not be safe to drive at that speed. UK speed limit signs show MPH, Irish signs show KPH.

On motorways speed limits are shown my electronic matrix signs. Matrix signs in red circles are compulsory - others (like the one illustrated below) are advisory.

If you see a white circular sign with a black bar it indicates the 'National Speed Limit' – this is 60mph on two-way roads and 70 mph on dual-carriageways and motorways.

In built up areas the speed limits will be 30mph or 20mph. There will not be signs for 30mph limits after you enter a town, the street lighting posts denote the limit unless signs tell you otherwise.

If it seems that your journeys are taking a long time – or that you are driving fast… Remember that all distance and speed signs indicate miles, not kilometres. Five miles equals around eight kilometres.

Breaking the speed limit will incur a fixed penalty fine. There are lots of speed cameras including 'average speed' cameras which calculate your average speed over a given stretch of road. Excessive speed is a large factor in UK accidents – take your time and enjoy your visit!
Although rarely seen - you might find it in bridges or tunnels - there is a speed limit sign with white numbers on a blue background in the UK; this is a minimum speed limit, you must drive at or above the speed shown.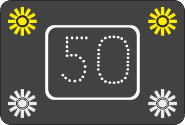 Junctions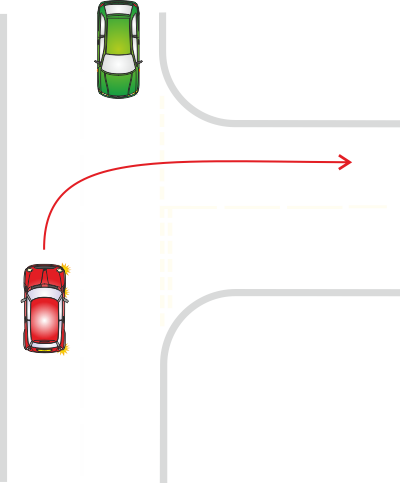 The most important thing to remember at junctions is that priorities are reversed – also you will not find any 'four-way-stop' junctions.

When turning right from a main road to a side road, give way to the traffic that is approaching from ahead. This is the situation shown in the diagram - you would give way to the green car.
When turning right out of a side road remember that you are moving over to the left for normal driving.

At roundabouts give way to traffic that is approaching from the right.

Yellow-box junctions: At some junctions there is yellow hatching painted on the road surface. The general rule is that you must not enter the yellow area unless you have a clear exit. The only exception is if you are turning right with a clear exit but ore prevented from turning because of traffic approaching from ahead.

For detailed information about all junctions see learn-Online.

Flashing headlights

The UK Highway Code states that flashing headlights has only one meaning. Like sounding the horn, it alerts other road users of your presence. The code goes on to say that you should not flash your headlights for any other reason.

The reality is that many UK drivers use flashing headlights to give way to others.

The safest rule for visitors is never flash your headlights unless you think that another driver has not seen you. If someone flashes at you must always be 100% certain that: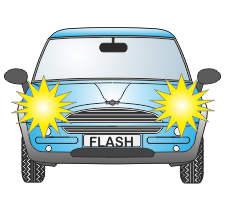 The signal is for you


The driver is giving way


It is safe to carry out your intended manoeuvre


Others don't think the flash is for them

Take special care if someone flashes you when turning right – look out for cyclists or motorcyclists that might be coming around the flashing driver.

Full information about all UK signalling methods in Learn-Online
Pedestrian safety
Always be prepared to give way to pedestrians who are in the road – especially the old and very young.

There are a variety of pedestrian crossings types, most are not controlled by traffic lights. At some crossings there is a flashing amber phase in the light sequence – this means you can proceed if the crossing is clear but must give way to any pedestrians who are on the crossing.

Zebra-crossings are uncontrolled crossings indicated by black and white striped road markings. You must give way to any pedestrian who has stepped onto the crossing, however, it is good driving practice to stop and give way to those who are waiting to cross.

It is illegal to stop on, block, any pedestrian crossing – make sure that you leave the crossing clear in traffic queues.

Learn-online has detailed information about Pelican, Puffin, Equestrian, Tiger, School & Zebra crossings.
Motorways (Freeways)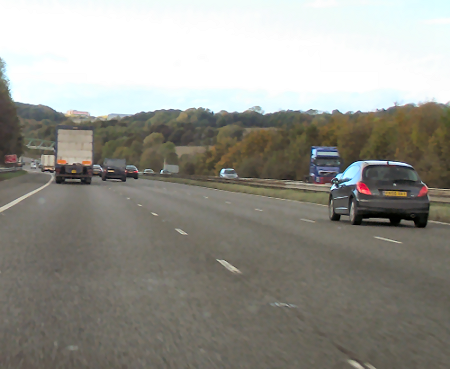 You will normally join a motorway from a ramp on the left (slip road).

When you are on the motorway the rule is to keep to the left lane unless overtaking – or unless taking a designated lane for a specific destination.

The maximum speed is 70mph in a motor car, 60mph if you are pulling a caravan/trailer. Other vehicles are subject to different limits.

Overtake on the right. In the UK it is not permitted to pass vehicle on the left – while this is not a specific offence it can be prosecuted as careless or dangerous driving. Pass on the right and then move back to the left lane.

Watch out for signs in advance – especially at complex intersections where taking a wrong lane could end up with having to do a thirty mile diversion!

You will normally leave the motorway via an off ramp on the left. Look out for signs one mile and half-a-mile before your exit.

Detailed information about motorways in Learn-Online
How it all started - and Samoa!
Useful reference links
UK Highway Code (web)
UK Know your traffic signs (pdf file)
Irish Rules of the road (pdf file)