Automatic Transmission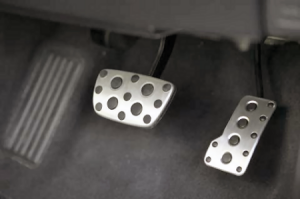 From a driving point of view, automatic, hybrid and electric cars have one thing in common, the driver doesn't have to change gear.
When getting into a car with automatic transmission, the first thing you notice is that there are only two pedals - automatics don't have a clutch.
In an 'automatic', the car changes gear automatically without your direct intervention.
Automatics still have gears, typically anything from three to seven, but you don't have to do anything to operate them except for some limited, specific circumstances.
Some modern cars have different settings for the gear selector, operated by engine management wizardry. These settings allow you to choose different driving modes depending on the traffic conditions and your mood (for example, you might have a 'sport' setting) - some will also allow you to change gear manually.
All the driver has to do in an automatic is stay awake, steer, brake and accelerate.
Gear selector positions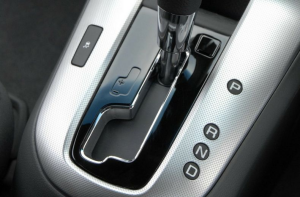 Modern automatic cars will usually have four main selector positions.
P = Park: Use this when leaving the vehicle parked. In many automatics, you can't move the leaver out of the Park position if the engine is not running.
Top tip: Develop a habit of applying the handbrake before selecting Park. If you select Park first, the car can move slightly when you release the footbrake putting pressure on the mechanism - in a worst-case scenario, this could jam the transmission needing a breakdown mechanic to fix it.
R = Reverse: You might have guessed this one!
N = Neutral: If you are waiting for a while, for example, at a red traffic light, it's good practice to use the handbrake and move the lever to N. Neutral is also used if the car needs to be towed after a breakdown.
D = Drive: This is the position for everyday driving. When D is selected, the car will automatically change to the best gear for your speed and the engine's workload (for example, it has to work harder when going uphill).
Changing auto gears manually
If you look closely at the picture, you will see '+' and '-' symbols above the offset slot on the left.
Some automatics have an extra position that allows the driver to move the lever forwards and backwards to change gear manually (instead of the car changing automatically).
When you push the lever forward, the car changes up a gear, backward to change down. Some automatics have 'paddles' on the steering wheel for manual gear changing.
It's likely that most drivers rarely, if ever, use the manual function; however, it can be valuable in several situations, such as winter conditions or when driving downhill. Ask your driving instructor for more information about this feature.