Reversing to the right is no longer included in the driving test. Even though this manoeuvre was an option for driving test examiners for many years, it was rarely tested - except in driving instructor tests.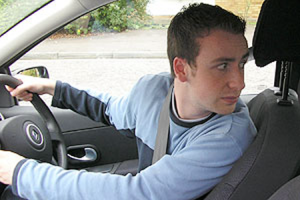 So why bother learning it?
Although your ability to reverse to the right won't be tested, being able to reverse to the left and right are essential skills in everyday driving.
You will need right-hand reversing skills when parking in car parks, reversing into driveways and in other similar situations. With this in mind, it's worth taking a little time to practise the manoeuvre - especially if you can practise with a parent or friend outside your driving lessons.
Learning this manoeuvre before reversing to the left or into parking bays also makes sense because it is easier - easier because you can see the kerb clearly as you reverse. This means you can practise all the control and observation skills needed to reverse before trying in a car park or tighter situations.
Mastering this manoeuvre (and the left-reverse) will be time well spent. It will develop your 'natural' reversing skills. In turn, this will make the driving test reversing exercises easier. And you will also have the skills to reverse safely in any situation after you have passed the test.
When doing this exercise, you will be the odd one out, which means that you must be fully aware of what is happening all around, all the time.
'OWL' like observation, keeping a constant lookout, is essential in this exercise because you will start on the 'wrong' side of the road.
While learning and when manoeuvring after you have passed your test, it's important to remember that all manoeuvres must be done in a safe, legal, and convenient location.
Safe means that you must not endanger yourself or others.

Legal means that you must not infringe any laws or drive carelessly or dangerously.

Convenient means that you must not cause undue inconvenience to others - remember, you are the 'odd one out' when manoeuvring.
Right and left reverse manoeuvres can be helpful if you go the wrong way by mistake - but if a safer option, such as driving around the block or a roundabout, is available, you should choose that method.